In all the anticipation of planning your wedding day, have you considered wedding exit photos? If you're short on photographer time and budget, there are ways to do the "fake exit" and not kill your party! By all means keep reading, I've got you covered! 
I've captured countless moments of love and joy throughout the day as a Texas wedding photographer. However, one of the most exciting parts of any wedding is the wedding exit. It's the first time the newlyweds leave the ceremony/reception venue married! 
On one hand, the wedding exit usually marks the end of the celebration and the beginning of a new chapter of your lives. More recently though, the "exit photo" is more about the photo and less about the actual exit. You're going to want to keep reading for some unique ways to get the picture you want and not kill your party if it's not really the end!
6 Unique Wedding Exits
Traditional wedding exits involve tossing rice or leaving in a limo. But there are plenty of unique and creative ideas that can make the moment even more memorable. Texas wedding venues have so much potential for adding that extra touch to your wedding day. 
For one thing, I don't have just one unique wedding exit idea for you…I got SIX!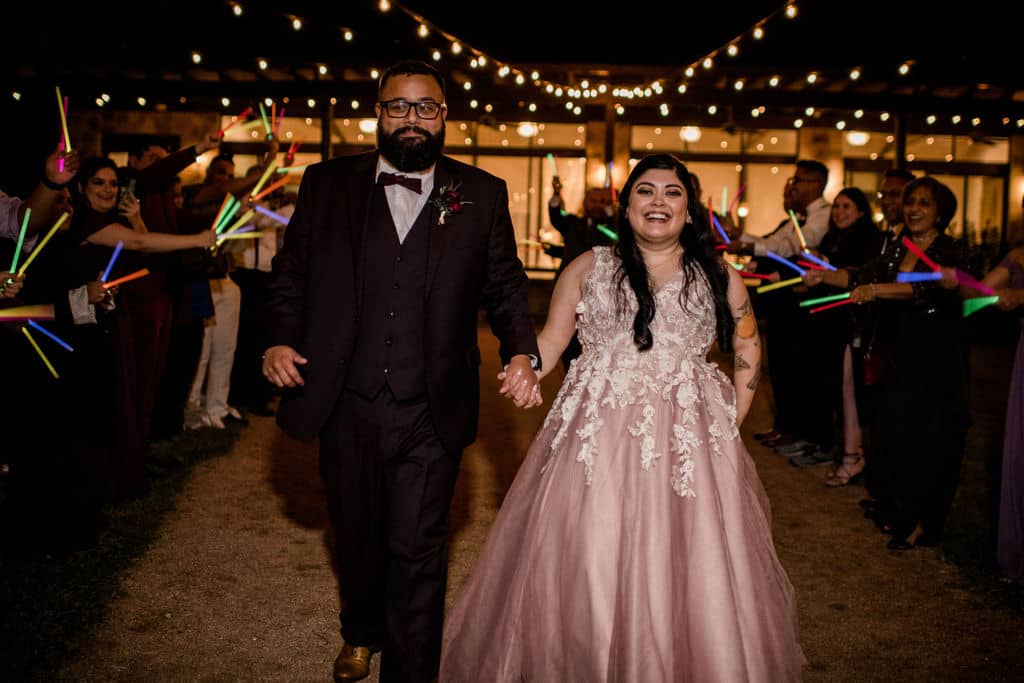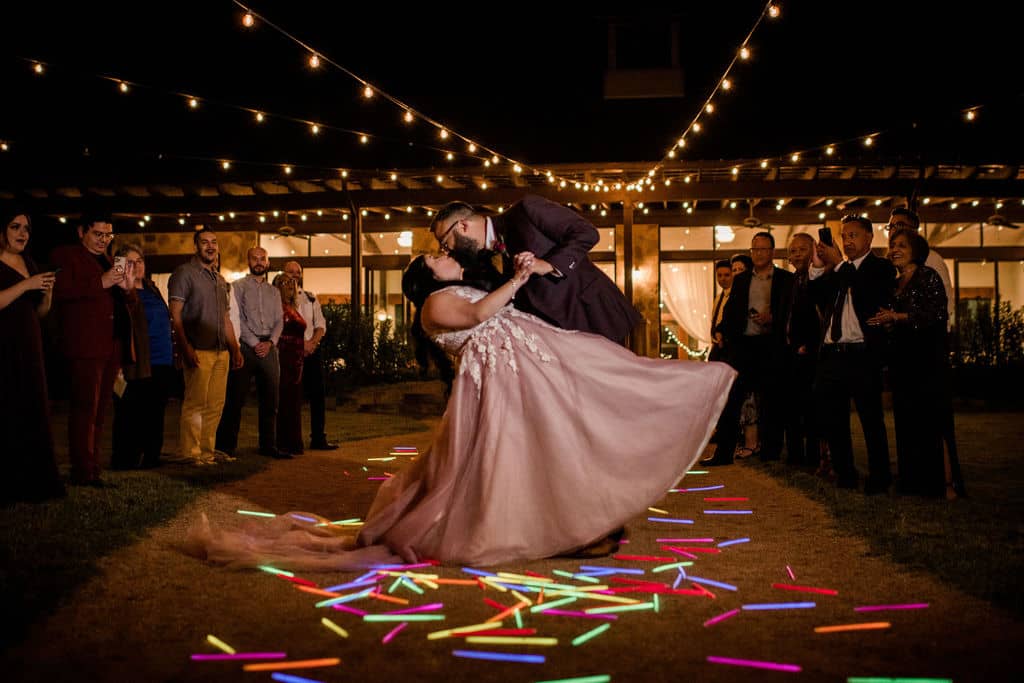 1 | Glow Sticks
Glow sticks are a fun way to add a unique and colorful element to your wedding exit. It goes without saying that they are more effective for evening or nighttime wedding exits. They create a playful atmosphere that leaves your wedding photos…jaw-dropping! 
For an added effect, you can have your guests surround you after you run through them and wave the glow sticks around, or (my personal favorite) have them throw the glow sticks on the ground to create a backdrop for a really cool night time image.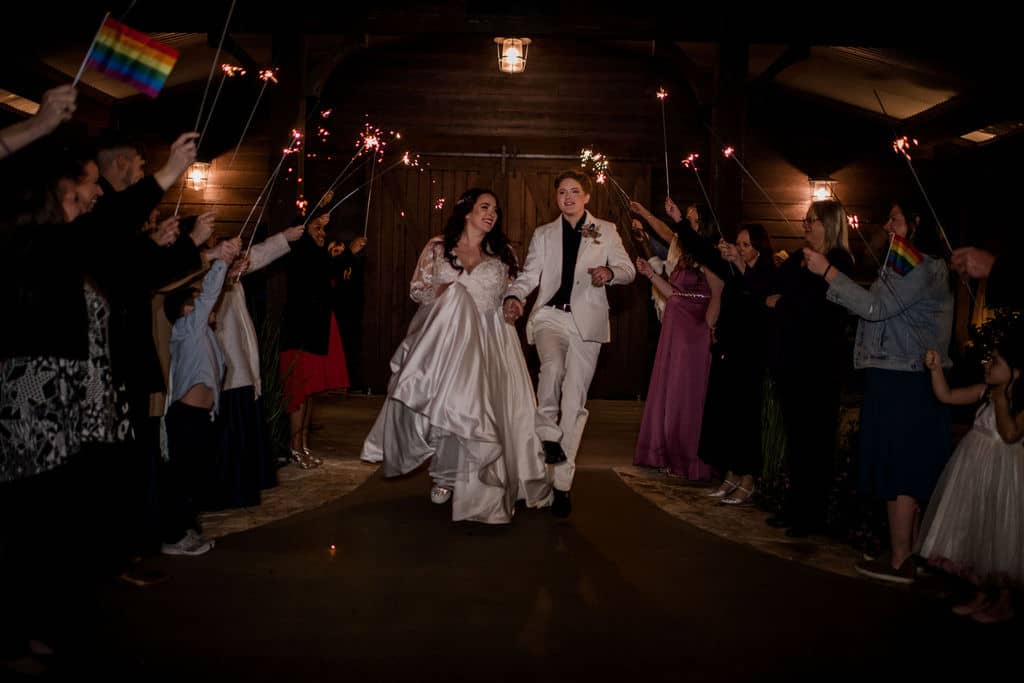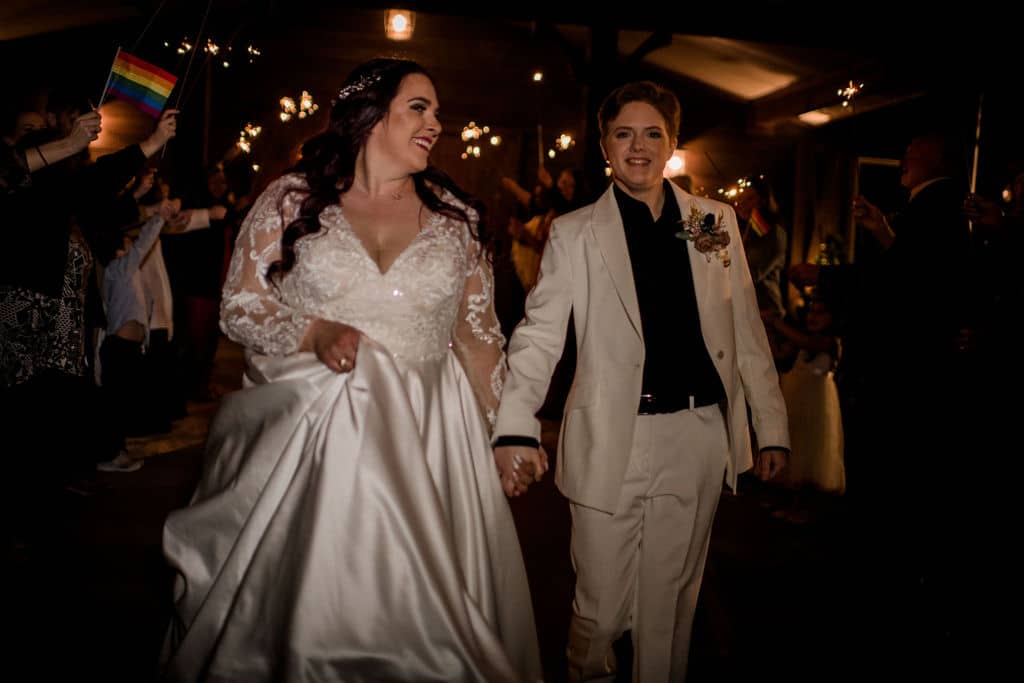 2 | Sparklers
Sparklers are a fantastic wedding exit idea that adds a touch of romance and magic to the moment. They provide a stunning visual effect and create beautiful movie. 
Fun Tip: Incorporate something special with your sparklers, like the Pride Flags pictured above!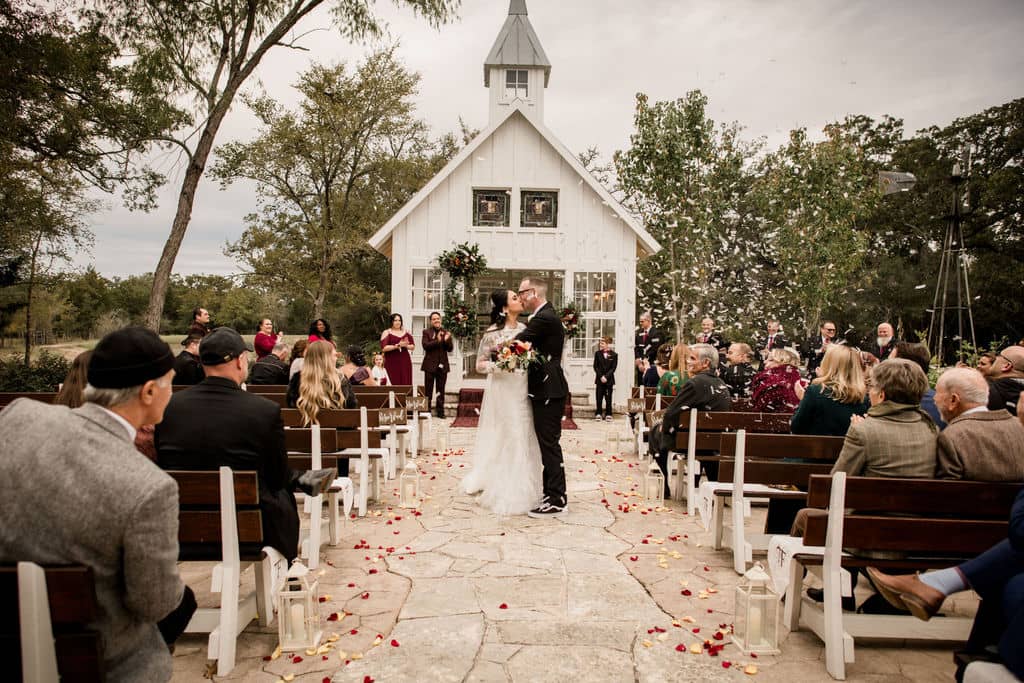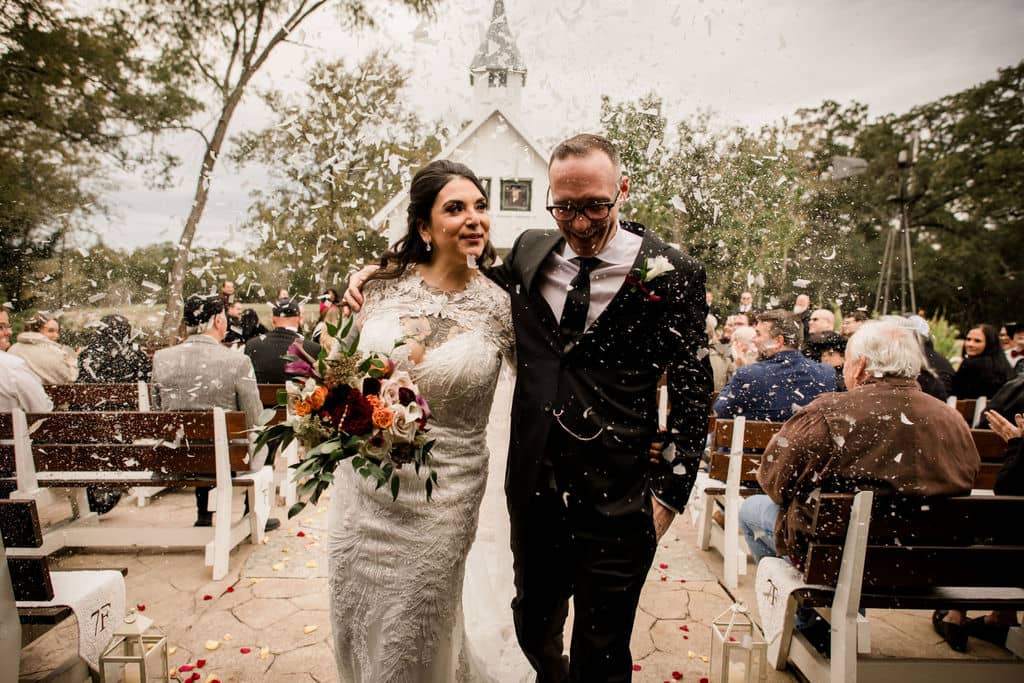 3 | Confetti Cannons
Confetti cannons nowadays are really the modern answer to flower petals. This time they are biodegradable and environmentally friendly. Confetti cannons are romantic and timeless. This wedding exit option can be done right as you exit your actual ceremony. This is a guaranteed way to not interrupt your party later on at the reception for photos.  
The cannons pictured here are from Broadway Bridal. They are my absolute favorite cannons. They are reliable, environmentally safe, and easy to use (Use the code JAMIE10 for 10% off).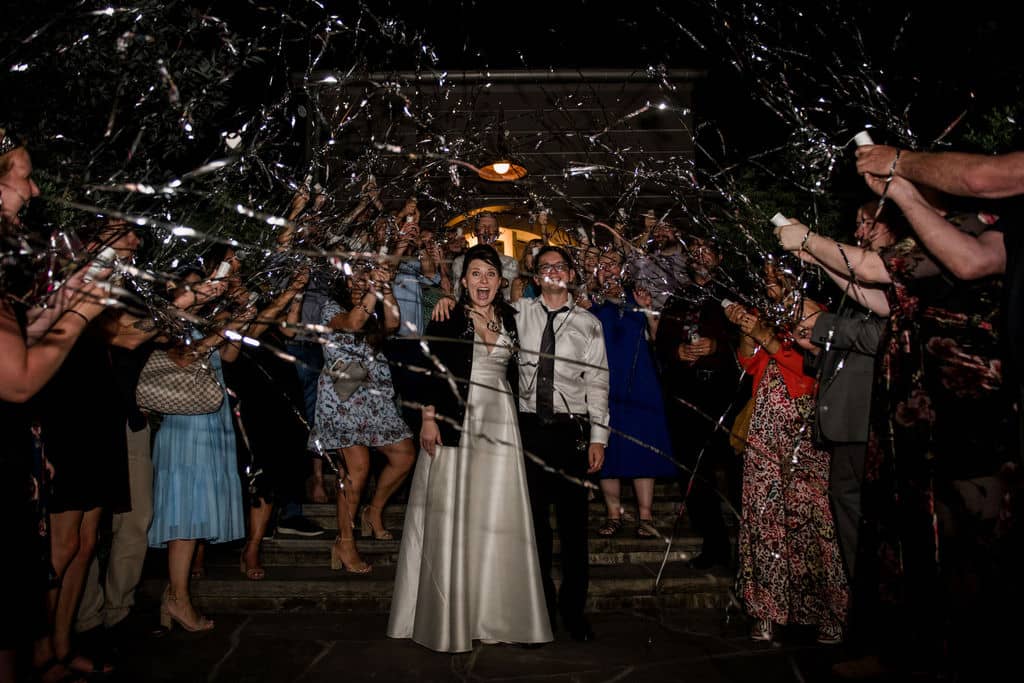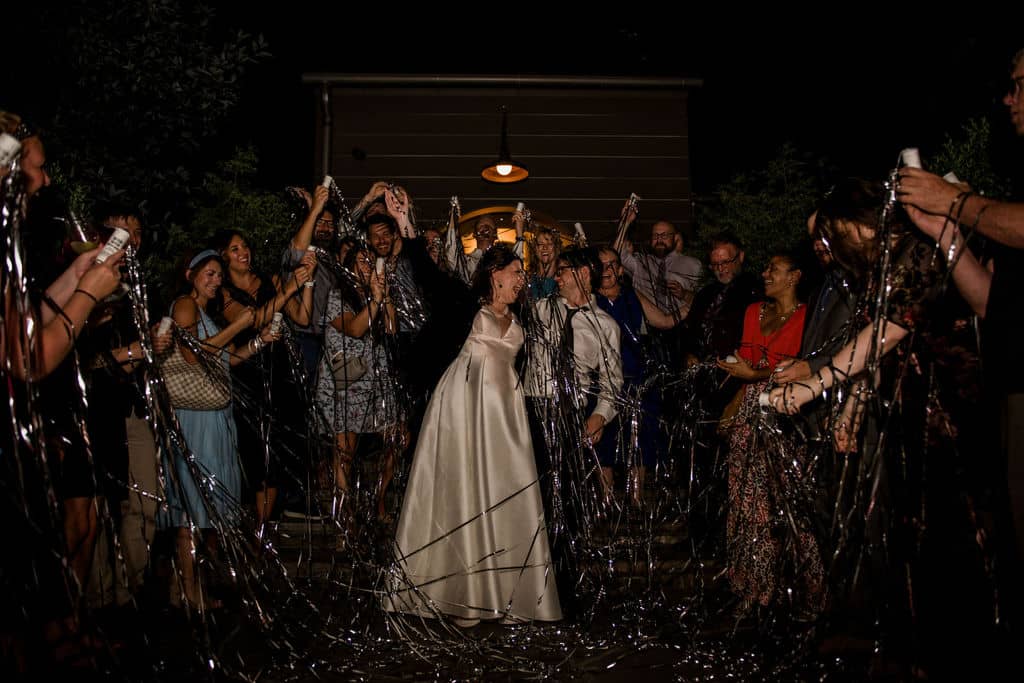 4 | Ribbon Wands
Ribbon wands or streamers are a fun and playful way to exit your wedding. You can ditch the traditional ribbon wands and customize them to match your wedding color scheme. Now that's how you create a wedding exit! The ones featured from this wedding are poppers that have streamers still attached so there's no mess to clean up!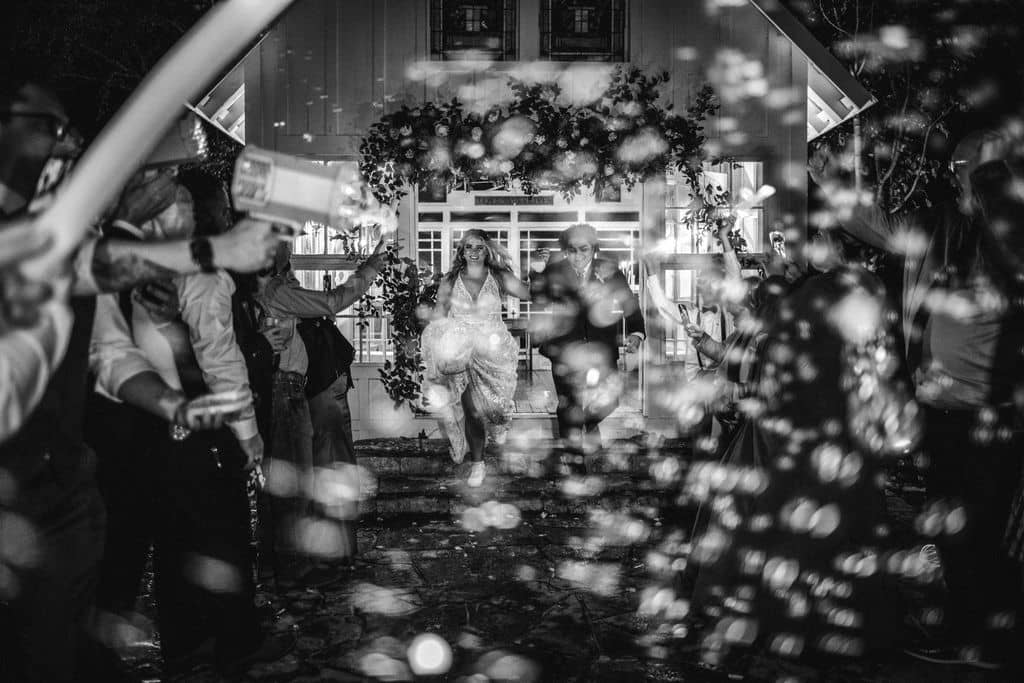 5 | Bubbles
Bubbles are a whimsical addition to a wedding exit. They provide a beautiful visual effect and add a touch of playfulness to the moment. I mean…who doesn't love bubbles?! They're so fun.
In any case, I recommend having access to some bubble machines if you choose this option to fill in the bubbles so that your guests won't be blowing.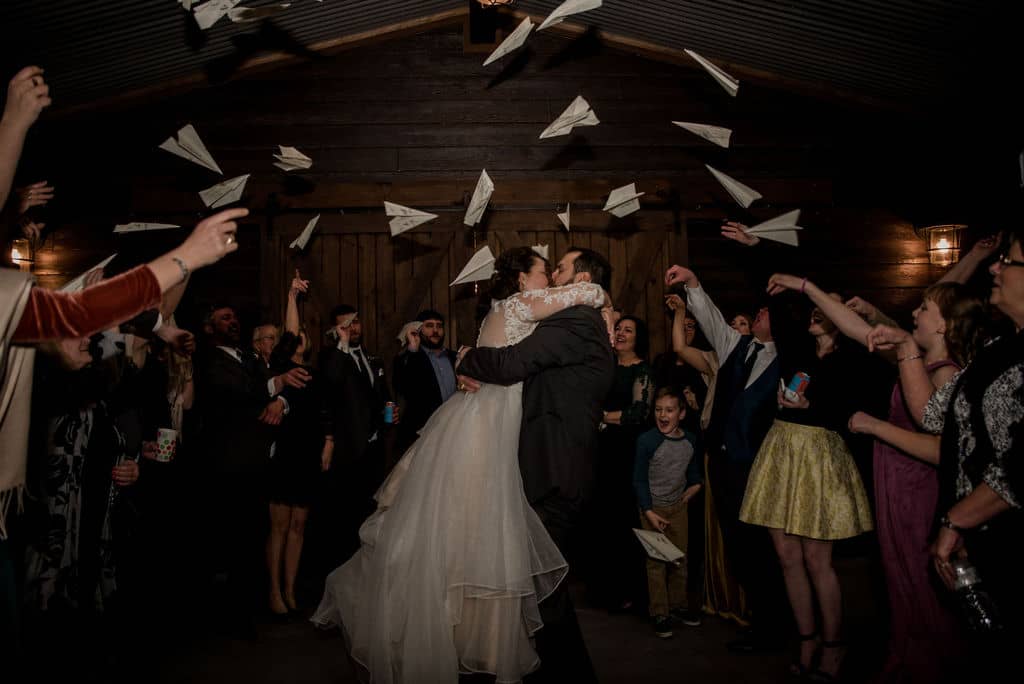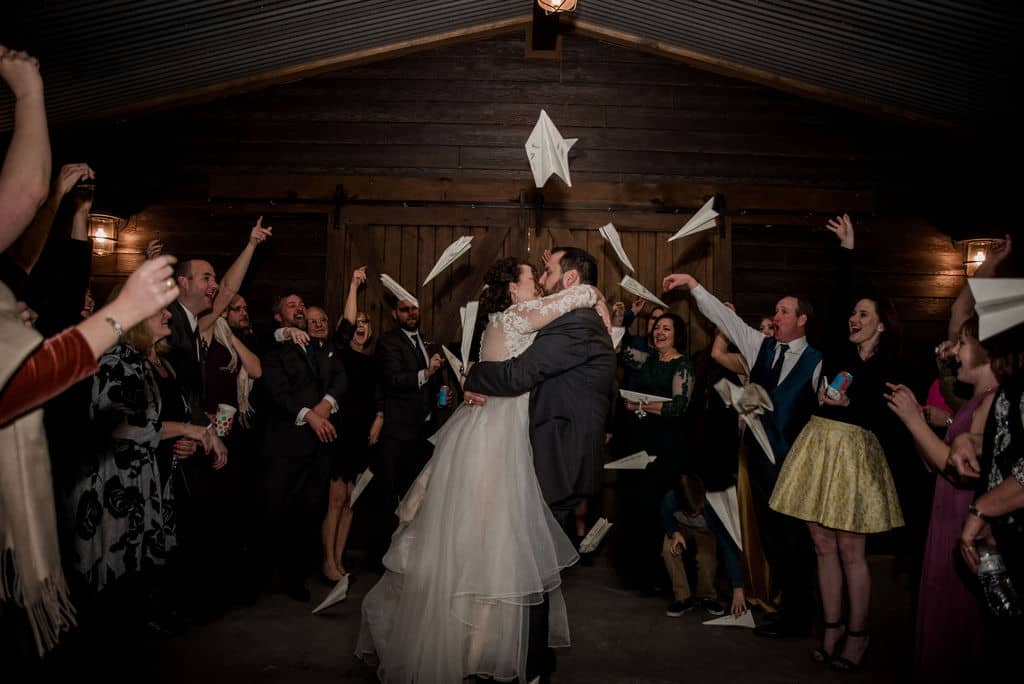 6 | Paper Airplanes
Paper airplanes are one of the most unique and creative wedding exit ideas. They provide an interactive element for guests and create a fun atmosphere.These can also double as your table place cards or your ceremony programs!
Some options for you are that you can have the plane folding diagram on the back of either of these items or have pre-folded planes as your seat place cards. Or you can even have your guests write special notes to you on the paper before they launch and have someone retrieve them after for keepsakes.
You can't help BUT smile when looking at these wedding exit photos!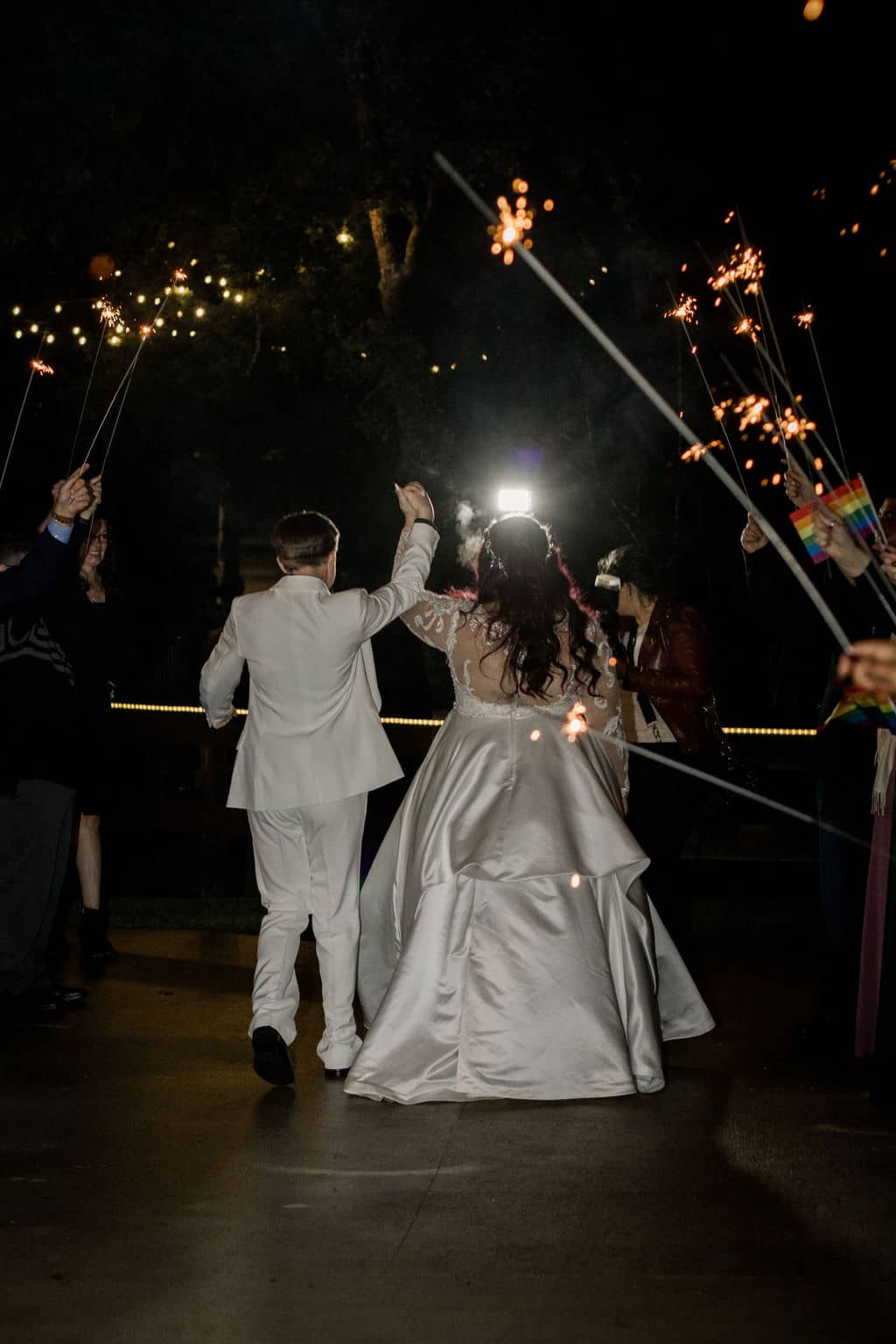 Wedding Exit or Photo Op?
Let's have a discussion with your planner and your DJ/band and put everyone on the same page. Additionally, if you're getting this photo op early in the evening so that you can save money on photographer time, then let's start calling it a photo op! 
TIP: Have your MC announce when it's time for everyone to make their way to the area where you want to take the photo and have them line up. Make sure you have your musical masterminds of the evening on board to play only music that will get everyone hyped up. Then leave the doors open so the music is playing during your photo. As a couple, you will run down the aisle of guests cheering you on. Then an announcement should be made that as you run back down the aisle of people the guests are to follow you back into the dance floor where your band or DJ will get the party started back up. It's a guaranteed, no fail method to get the guests who want to stay and party back on the dance floor!!
Final Thoughts
Thus, your "wedding exit" (we mean PHOTO OP) is a special moment that should be celebrated in a unique and memorable way. As a Texas wedding photographer, these are six unique wedding exit ideas to help create a moment that reflects both of your styles that won't kill your party.
Remember to live in the moment on your wedding day…and I'll capture these moments so that you can relive them for years to come. Let's chat!
_________________________________________________________________________________________

Meet Jamie
Hey! It's Jamie and what you see, is what you get!
I'm a marathon running, tattoo laden, indie music loving, historic home renovating, dog lover who isn't afraid to speak her mind. I am a Houston and College Station wedding photographer living in a 110 year old farmhouse in the small town of Snook, TX.
You might be wondering, "what makes her the best choice for my wedding?"
WELL! 12 years of wedding experience means that I'm not only a wedding expert, but I'm also a pro at keeping you on schedule, like wrangling a big family as if they were my own. I am committed to making sure my clients actually enjoy their wedding day.
Genuine smiles and laughter are what I strive for.
It's my goal to capture real, un-posed moments that reflect your wedding in a way that only I can. I want you to see things in your wedding album that you didn't even realize were happening behind the scenes.
If you're also the kind of person that loves jumping into adventurous feet first, let's run this trail together!