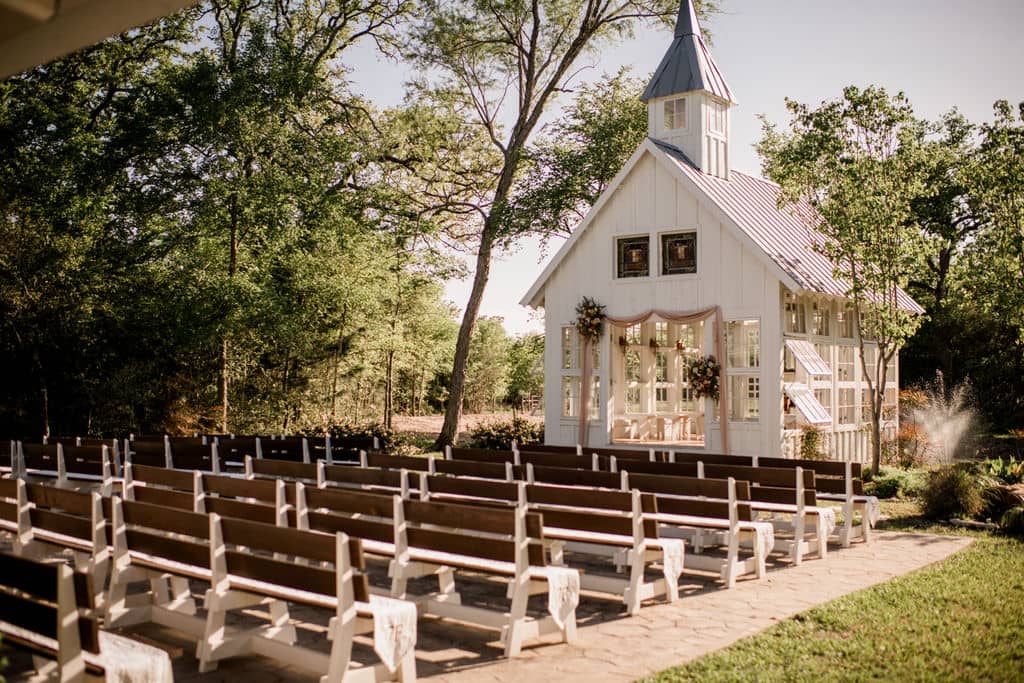 Picture it! You are standing in front of a quaint white chapel saying "I do" to your partner as the sun sets behind you surrounded by all your closest family and friends.
At 7F Lodge and Events you don't have to imagine! This is the place.
Located in College Station, Texas, 7F Lodge and Events is a wedding venue that offers a country setting under the stars to dance the night away. Since I'm a preferred vendor at 7F Lodge, I've got all the best tips for photos as well as the ins and outs of this wedding venue. Let me let you in on the juicy secrets! 




About 7F Lodge and Events 
7F Lodge and Events is a family owned and run wedding venue representing the heart of Texas here in College Station for the last 25 years. Their goal is to create an inviting space and comfortable experience for you and all your guests. They know how to make sure everyone has the best and memorable time! 
They create a unique wedding experience at their wedding venue for every couple and even have cabins for your guests to spend the night. This means the celebration doesn't have to end! 7F Lodge's "White Chapel" has been one of the most popular wedding spots in Texas–you can see why! It had been the quintessential backdrop for wedding, engagement, and bridal moments. 
Whether you're looking for a rustic, bohemian, or really whatever style your heart desires, 7F Lodge and Events has got you covered!






Amenities at 7F Lodge and Events
You want to know what makes a wedding venue go from great to AWESOME? Their amenities! 
7F Lodge offers so many amazing amenities to help your wedding day go according to plan. They offer a separate cabin for the bride to get ready which not only means more space, but also creates a great backdrop for getting ready shots. You don't need to really worry about arriving late because their cabins are available for couples and their guests to stay overnight! Meaning everyone can either stay the night before your wedding day or after your wedding day..or BOTH!  
Their outdoor space with the charming little white chapel is everything you want as the perfect backdrop for you and your partner. With the unpredictability of weather (ugh I know), 7F Lodge and Events is prepared with their indoor reception area and their Covered Pavilion to host the reception in an outdoor space in case of rain. The venue holds up to 250 guests and with that 7F Lodge has something for most weddings.
Did I mention the chapel makes for the best nighttime private dance photos? No? Let me show you!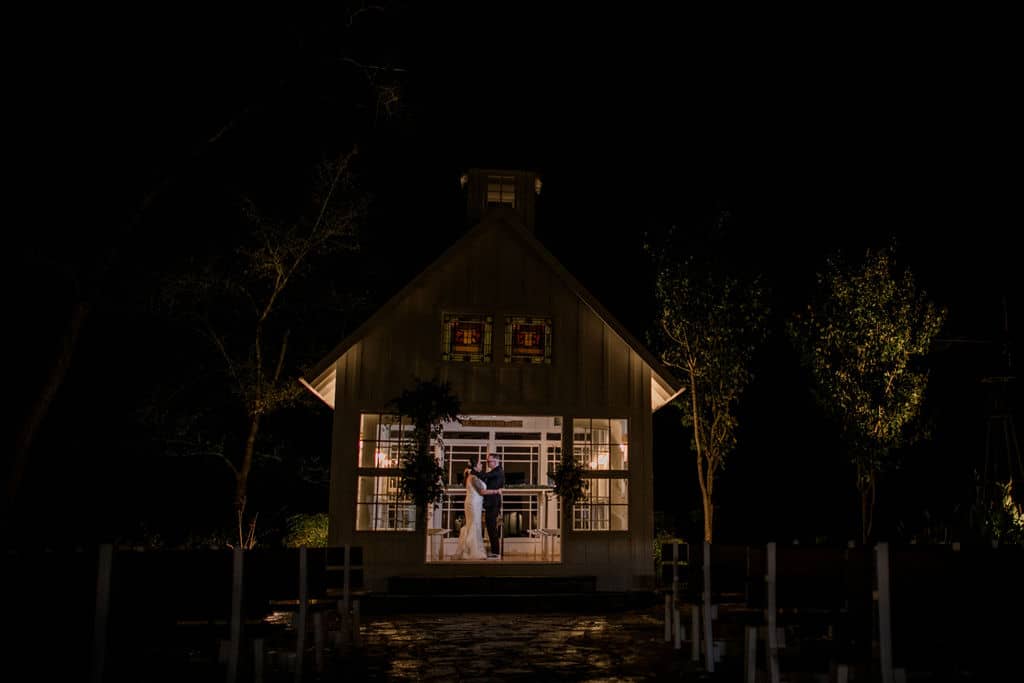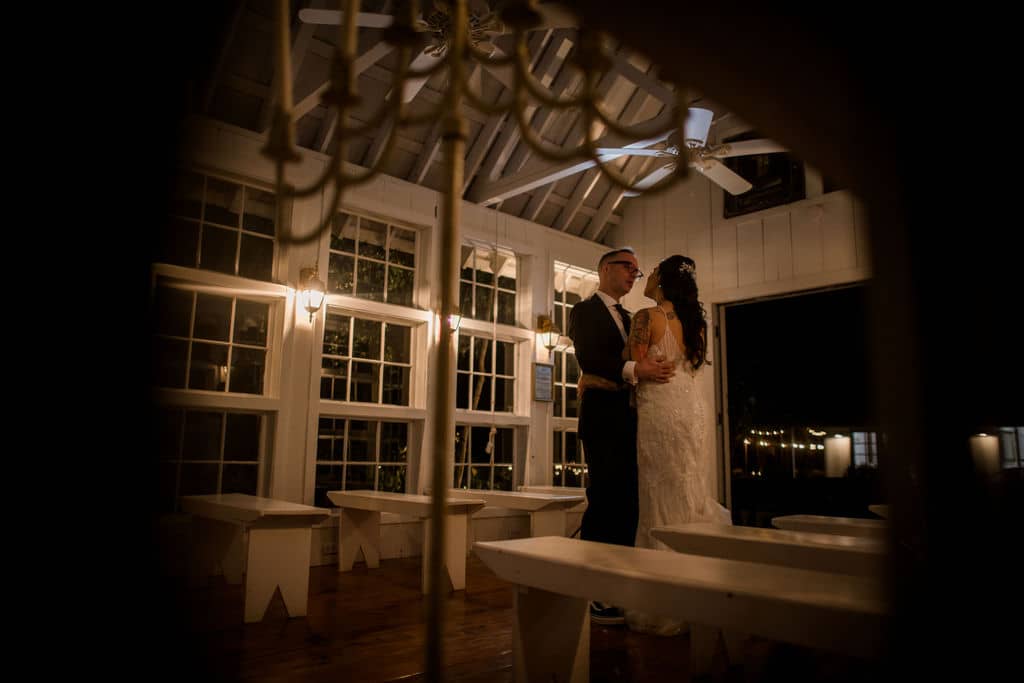 Packages and Costs at 7F Lodge and Events
From the moment you arrive at 7F Lodge, you will be taken by the beauty of the property. But let's be real…how much does this cost? 
First, it's important to know that 7F Lodge and Events offer pre-packaged weddings where you can pick and choose your wedding vendors off their preferred list. Then they can do all the legwork for you making it a stress free planning process. Their attentive staff that is ready to help make your wedding day dreams a special one!
Based on previous years, services start at $4,500 for a wedding and based on your needs couples typically spend between $16,000-$25,000. You can pick and choose what services to book through the venue including photography with me (and because it's in a package with them, it's at a discount too!). With its stunning architecture, lush landscaping, and tranquil atmosphere, 7F Lodge offers the perfect combination of romance and fun for the perfect Texas wedding.
As a preferred vendor and someone who knows this venue like the back of my hand, every wedding has been incredible and really well organized!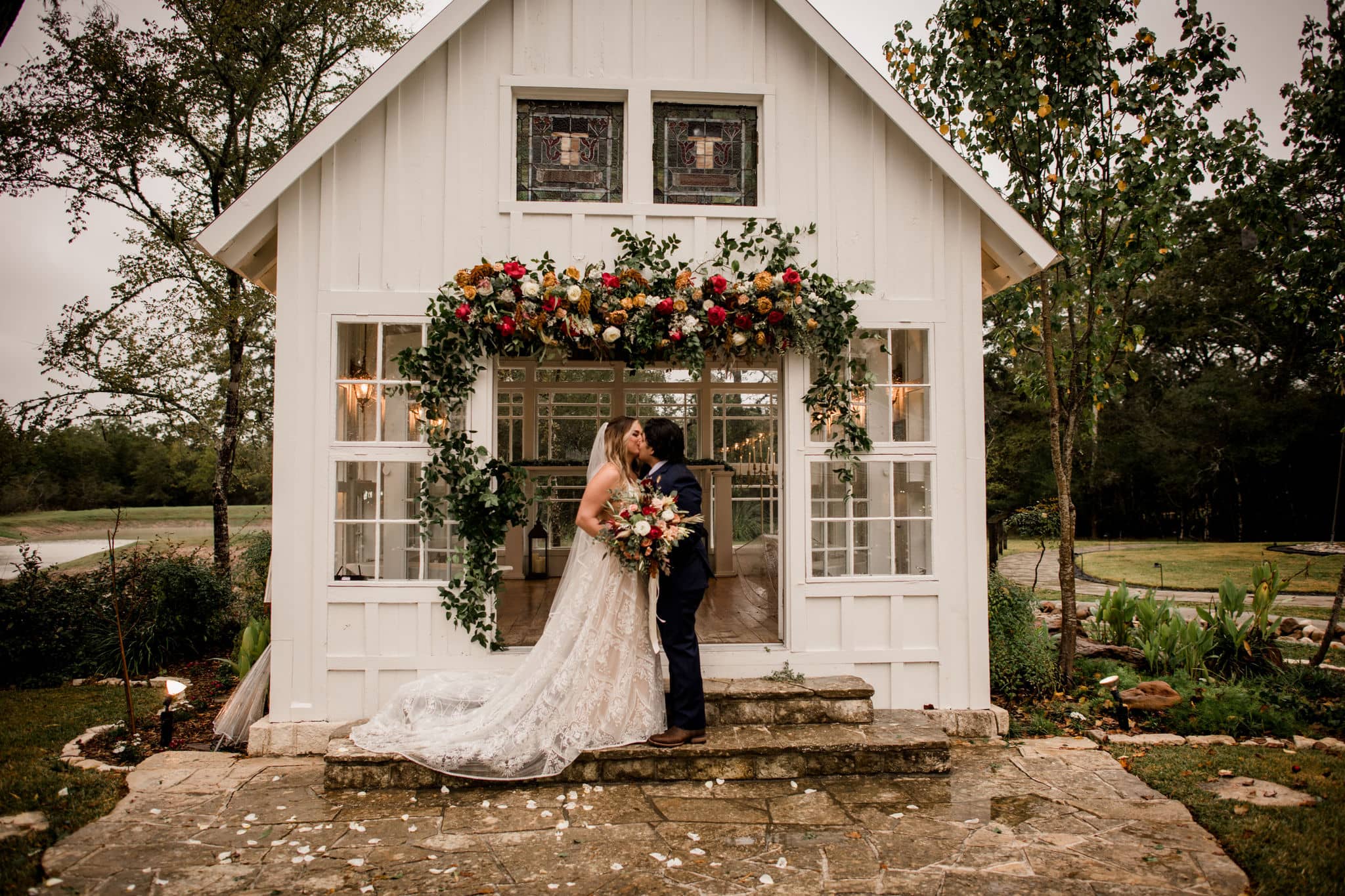 Conclusion
Overall, 7F Lodge and Events is the perfect wedding venue with a gorgeous, quaint white chapel that can fit your style! Their incredible amenities not only take care of you, but also your cherished guests. 7F Lodge's pre-packed weddings do all the leg work for you so you and your partner can focus on the real deal of the day, YOUR LOVE! 
That's the inside scoop on the heart of Texas's wedding venue, 7F Lodge. Reach out if you're interested in learning more and have me capture your special day here! 
Want to see more? Take a virtual tour of the venue here! 
Vendors
Lykins Wedding (couple with the umbrella) –
Coordination: All Things Planned
Florals: Urban Rubbish
Dress: Coreena's Bridal
Cake: Fabulous Fare 
Catering: Hilton College Station
Bar Service: Epicures
Rosalee and Donnie's Wedding (nighttime couple dancing) – 
Coordination: All Things Planned
Hair and Makeup: Naturally Flawless
Florals: Tamara Menges Design
Cake: Fabulous Fare 
Catering: Hilton College Station
Bar Service: Epicures
_________________________________________________________________________________________
Meet Jamie
Hey! It's Jamie and what you see, is what you get!
I'm a marathon running, tattoo laden, indie music loving, historic home renovating, dog lover who isn't afraid to speak her mind. I am a Houston and College Station wedding photographer living in a 110 year old farmhouse in the small town of Snook, TX.
You might be wondering, "what makes her the best choice for my wedding?"
WELL! 12 years of wedding experience means that I'm not only a wedding expert, but I'm also a pro at keeping you on schedule, like wrangling a big family as if they were my own. I am committed to making sure my clients actually enjoy their wedding day.
Genuine smiles and laughter are what I strive for.
It's my goal to capture real, un-posed moments that reflect your wedding in a way that only I can. I want you to see things in your wedding album that you didn't even realize were happening behind the scenes.
If you're also the kind of person that loves jumping into adventurous feet first, let's run this trail together!