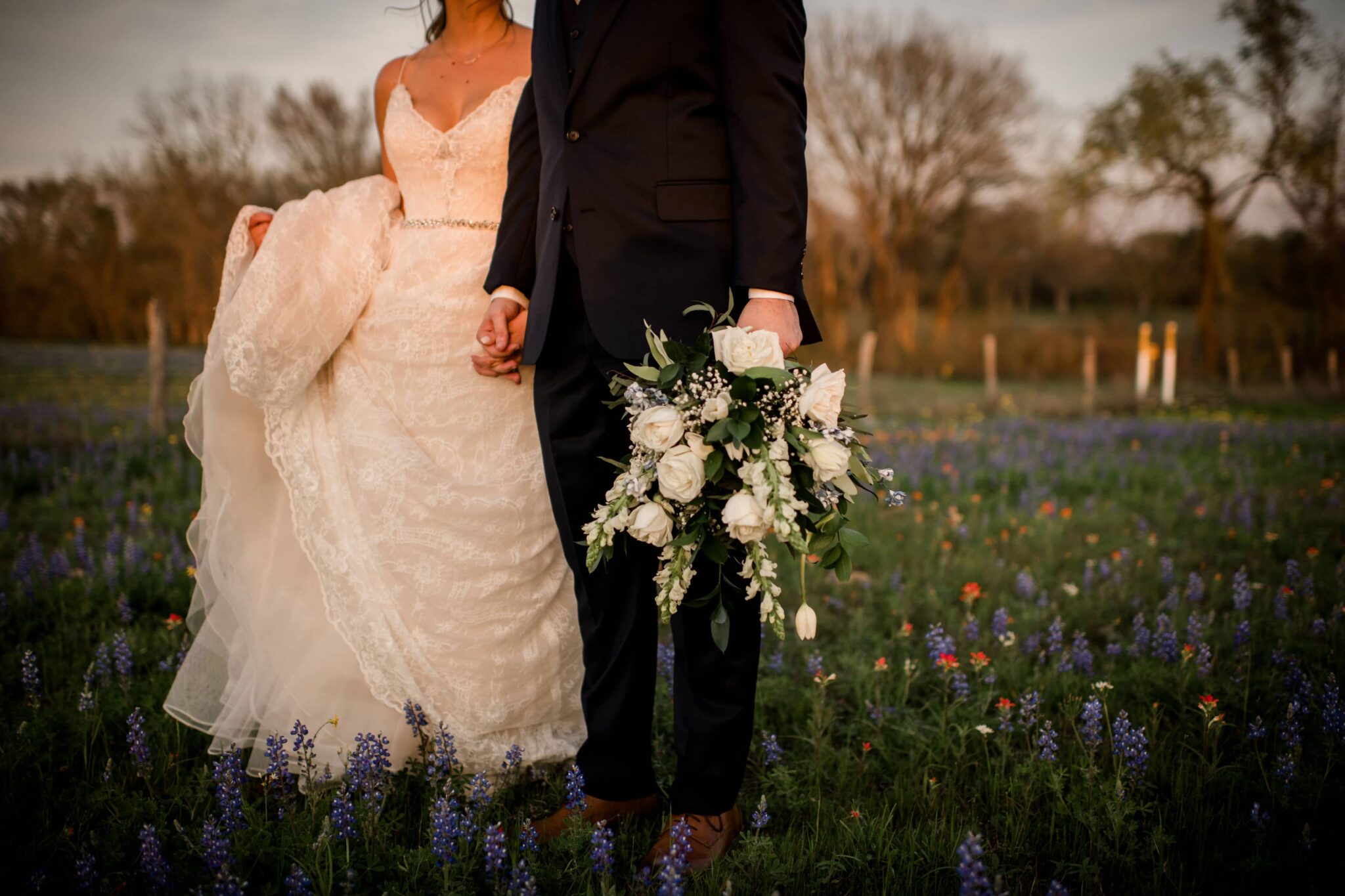 Getting married is such a huge step in life and should be a happy one! When it comes to getting started, it's a thrilling yet daunting task that leaves you wondering, "how do I plan a wedding"?! Trust me, this isn't something they teach in school.
If you're considering Bryan-College Station, TX, as your wedding destination, you're in for a treat! This charming city is home to several unique and beautiful wedding venues that offer a blend of southern charm and rustic elegance. From historic homes to vineyards and rustic barns, you'll find a venue that suits your wedding style.
To help you plan your dream wedding in Bryan-College Station, I've put in over 10+ years of my wedding photography experience into some helpful tips to ensure that your big day is unforgettable.




1 | How to Plan a Wedding: Setting a Budget
Planning a wedding is an exciting time, but before you dive headfirst into the details, it's important to establish a realistic budget. Your budget will serve as the foundation for all your wedding plans, including the venue, vendors, and services you choose. Take some time to sit down and carefully consider how much money you are willing to allocate to each aspect of your big day. Ask yourself which parts of the day you want to go bigger on and possibly parts you're willing to negotiate spending less on. By doing so, you'll be able to make informed decisions and ensure that you don't overspend.
Once you have a budget in mind, you can start researching local vendors and venues that fit within your price range. Bryan-College Station has a variety of options for wedding venues, including outdoor spaces, rustic barns, and elegant ballrooms. 




2 | How to Plan a Wedding: Choosing a Venue + Vendors
What's the best part about planning a wedding in Bryan-College Station? Well, you'll be happy to know that there are many beautiful venues to choose from, each with its unique flair. From historic homes to country clubs, vineyards, and rustic barns, you are bound to find a venue that suits your wedding style. From 7F Lodge to the Astin Mansion, the range of venues is one of a kind! Check out some of the best venues in the area from my experience here: Wedding Venues in Bryan-College Station! 
When going through venues in your planning process, it's important to consider several factors like the location, capacity, and amenities of each venue. You should also keep in mind that some venues may have specific requirements or restrictions, so be sure to ask questions and read the fine print before signing any contracts. Each venue offers a unique experience and beautiful settings to make your special day unforgettable. Take the time to research and visit each venue to make the best choice for your wedding. I find visiting venues really gives you the BEST feel for the place. 
Most vendors know how to navigate this area in the wedding planning process. And speaking of vendors, you'll want to choose professionals who can provide quality services within your budget. Here is what to know when hiring a:
Wedding Planner – Consider their experience, communication style, pricing, and availability. Look at their portfolio or ask for references to get a better idea of their previous work. It's important to find someone who listens to your ideas and can turn them into reality while staying within your budget and schedule. By considering these factors, you can find the perfect wedding planner for your special day!

Other Vendors – From photographers to caterers, florists, and DJs, make sure to choose vendors who understand your vision and can deliver. To stay on budget, figure out how much you can spend on each vendor. You can absolutely research your own vendors and ask for their portfolios or ask for recommendations from your wedding planner, venue, or friends who recently got married in Bryan-College Station! 




3| How to Plan a Wedding: Choosing Your Attire
If you're looking for wedding attire in Bryan-College Station, you're in luck! The wide range of options available to you will ensure that you find the perfect dress or suit for your big day. Whether you're looking for a formal gown or something more casual, there's something for everyone.
But there's more to consider in what makes your wedding outfit the perfect outfit—that's the venue and time of day. For example, if you're having an outdoor wedding in the summer, you might want to opt for lighter, more breathable fabrics. And if you're having an indoor wedding, you might want to look for attire that fits the aesthetic of the venue.
The right wedding attire can really tie your whole wedding together, so take your time and make sure you find something that aligns with your wedding theme and reflects your personal style. With the wide variety of options available in Bryan-College Station, you're sure to find something that's perfect for you.
4 | How to Plan a Wedding: Plan for the Weather 
Weather is another crucial factor to consider when planning a wedding in Bryan-College Station. The area experiences hot and humid summers, mild winters, and occasional heavy rainfall. I know, we get the extremes (haha).
So when it comes to planning your wedding, it's important to consider the weather and make appropriate arrangements. For outdoor weddings, I recommend you provide shade or fans in the summer. If it's an outdoor winter wedding, heaters are the way to go to keep your guests comfortable.
TIP: This goes out to those planning a summer wedding, consider having your ceremony in the evening when the weather is cooler! You'll thank me later! 
In addition, if you're planning on having an outdoor wedding in Bryan-College Station, it's important to have a backup plan in case of unexpected weather. Let's face it, we can plan the best we can for weather but things change at the last minute so having a backup plan is always great! Renting tents or choosing a venue with indoor and outdoor options are great alternatives to ensure your special day goes on without stressing of "what's plan B?!".






Overall, planning a wedding in Bryan-College Station is a wonderful experience with the right preparation, expectations, and research. By establishing a budget, researching vendors and venues, and considering the weather, you can create the memorable and beautiful day you've always dreamed of that reflects your unique style and personality.
As a Texas wedding photographer who's got over 10+ years of experience, I know the ins and outs of the Bryan-College Station wedding business. I am always excited to help capture and guide couples along the way of their wedding journey. Reach out here and let's chat!
_________________________________________________________________________________________
Meet Jamie
Hey! It's Jamie and what you see, is what you get!
I'm a marathon running, tattoo laden, indie music loving, historic home renovating, dog lover who isn't afraid to speak her mind. I am a Houston and College Station wedding photographer living in a 110 year old farmhouse in the small town of Snook, TX.
You might be wondering, "what makes her the best choice for my wedding?"
WELL! 12 years of wedding experience means that I'm not only a wedding expert, but I'm also a pro at keeping you on schedule, like wrangling a big family as if they were my own. I am committed to making sure my clients actually enjoy their wedding day.
Genuine smiles and laughter are what I strive for.
It's my goal to capture real, un-posed moments that reflect your wedding in a way that only I can. I want you to see things in your wedding album that you didn't even realize were happening behind the scenes.
If you're also the kind of person that loves jumping into adventurous feet first, let's run this trail together!