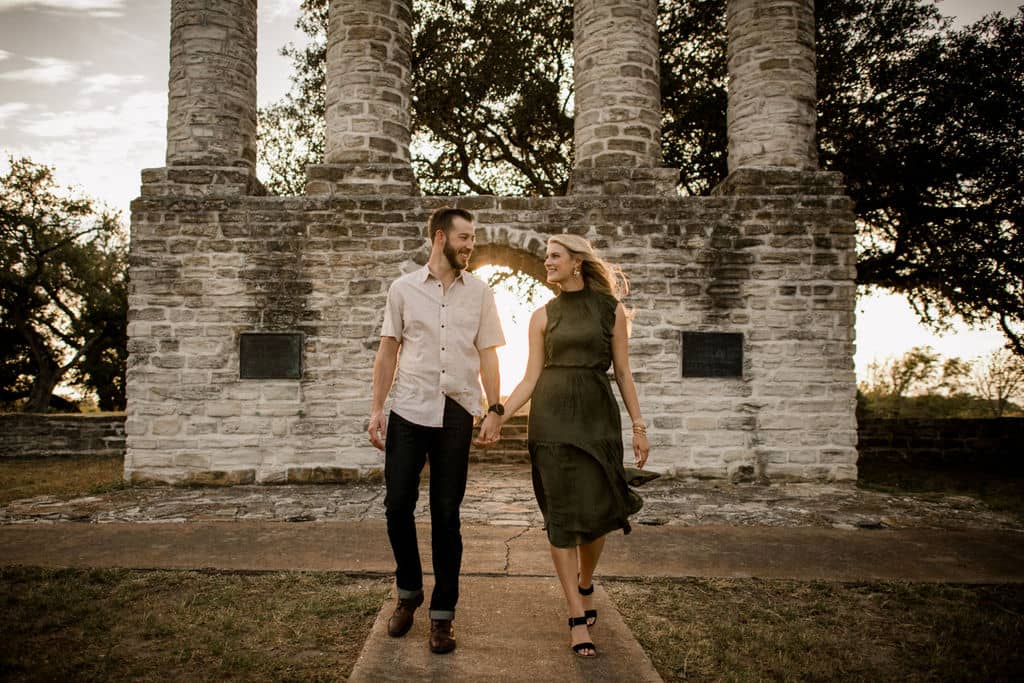 If you're lost in coming up with your engagement photo outfits, don't worry–many people feel the same way. Keep in mind that these photos will be used for many things like your save-the-dates, Instagram, wedding websites, and even the walls of your future home. This is why it's important to make sure you look and feel totally you!
Before you go digging through your closet or hitting the stores, consider these 6 tips for your engagement photo outfits. I got you covered with all my expert tea on what to wear (including seasonal options)!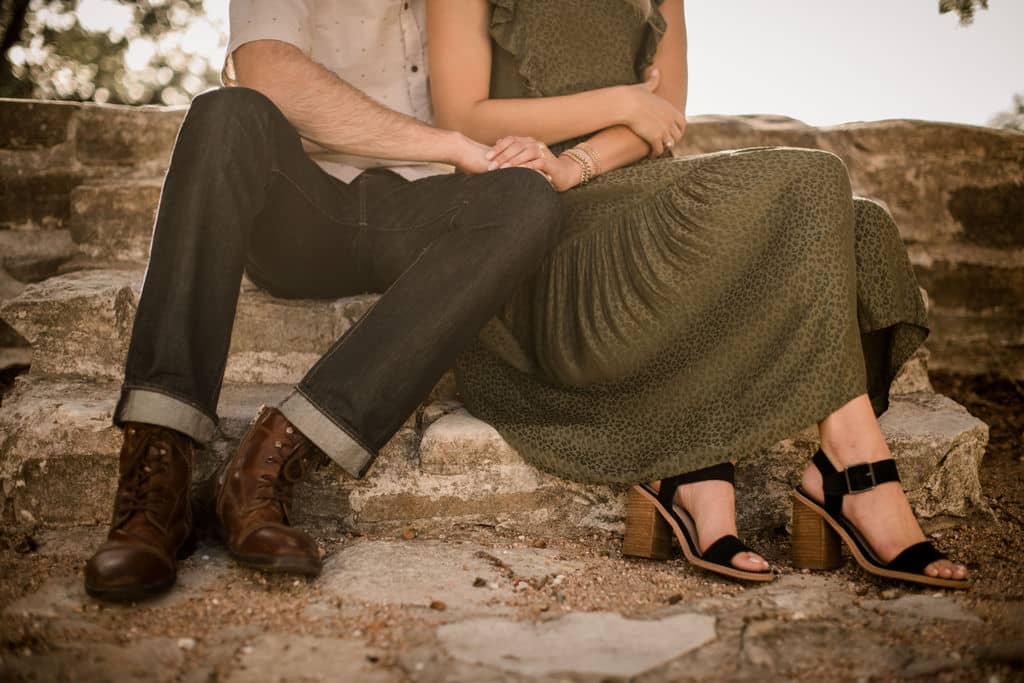 Tips for Your Engagement Photo Outfits
No.01 | Clothes That Make You Feel Like You
To make the most of your engagement session, it's important to wear clothes that make you feel like yourself. This means choosing engagement photo outfits that not only look great, but also reflect your personality and style. Consider incorporating your favorite colors or accessories to create a look that truly represents you. Whatever you decide, make sure that you feel comfortable and confident in your outfit choices–that way, you'll be able to relax and enjoy the experience of capturing your love on camera!
No.02 | Consider the Tones
There are a lot of details to think about when considering engagement photo outfits. Choosing the right outfits can help create the perfect mood and tone for your photos.
For instance, think about the tone and style of your photos. Are you going for a romantic and dreamy look, or something bold and edgy? This will help guide your outfit choices. For a romantic vibe, consider flowy dresses or skirts in soft pastel colors, while for a more daring look, try bold patterns or bright colors.
No.03 | Tie Everything Together With a Color Scheme, Not Matching
Although it's important to consider engagement photo outfits, it's more important to avoid going overboard with matching each other. While it's tempting to want to coordinate everything perfectly, remember that you and your partner are individuals with unique styles, and your outfits should reflect that.
That being said, look for complementary colors and solid prints. Try to avoid anything too busy like patterns or chunky accessories as it can be distracting to the eye in photos. 
In any case, choose a neutral color scheme, such as black, white, and beige, which always create a timeless look. Another great option is a white tee shirt and jeans. This is always a solid backup option BUT I always recommend making outfits your own.





No.04 | Wear at Least One Accessory
Whether it's a statement necklace, a stylish hat, or a fun pair of shoes, accessories can add a pop of your personality and style to your photos. Not sure what kind of accessory to choose? Consider something that complements your outfit or reflects your personal interests.
I will say one accessory limit just because when you start stacking more and more it becomes very busy. Instead of losing focus, one accessory really compliments everything. Like CoCo Chanel has famously said, 
"Before you leave the house, look in the mirror and take at least one thing off"
The possibilities are endless, so don't be afraid to get creative and have fun with your engagement photo outfits! 
No.05 | Always Go for Timeless Over Trendy Looks
When it comes to engagement photo outfits, it's always better to go for a timeless look rather than a trendy one. While it may be tempting to try and keep up with the latest fashion, remember that these photos will be remembered for a lifetime. 
For example, some timeless outfits are great fit and great basics. Great basics are like wide leg trousers, jeans, white button up, t shirt, etc. that fit your body shape well! 
Opting for classic pieces that will never go out of style is a way to ensure that your photos will still look great years from now. When shopping around for a timeless look, consider outfits that will be versatile enough to wear for other occasions in the future.
No.06 | Settle on Two Outfits
With so many options to choose from, it can be difficult to settle on just one look. To make things easier, I always recommend selecting two different engagement photo outfits to showcase your unique style and personality. This will also give you the opportunity to create a more diverse and interesting photo album. 
When choosing your outfits, consider the location and theme of the shoot. If you're doing a beach shoot, for example, you might want to go for a more casual and comfortable look. On the other hand, if you're doing a more formal shoot in a city setting, you might want to opt for something more elegant and sophisticated. 
Overall, whatever you decide, make sure you feel comfortable and confident in your outfits so that your true beauty shines through in the photos.



BONUS: Pull Inspiration From Throwback Photos
Ultimately if you are struggling to decide on the perfect outfits for your engagement photos, why not try pulling inspiration from throwback photos? By this I mean recreating photos from your past together! Maybe you have a favorite photo of you two together doing a silly pose or in a certain outfit you both like. Do it! It's such a great callback and will make for an amazing story with photos that last a lifetime.






Thinking About the Seasons For Your Engagement Photo Outfits
Not only do you want to look your best, but you also want to ensure that your attire complements the season. Here are some ideas to help you choose the perfect engagement photo outfits for your seasonal engagement:
Spring is the season of color and growth, so consider incorporating pastel colors and floral prints into your outfits. "Florals for spring? Groundbreaking!" I know…but a flowy sundress or a light blazer or a shirt and khaki pants are great options for spring engagement photo outfits.
Summer is all about fun in the sun, so choose outfits that are light and airy. Think flowy maxi dresses, linen pants, and breathable cotton shirts for your summer engagement photo outfits. You can also add a pop of color to your outfits with bright accessories like sunglasses or jewelry to really catch the light.
Fall is the season of warm colors and cozy textures. Consider wearing outfits in shades of burgundy, mustard, and olive green. You can also incorporate cozy textures like knit sweaters, suede jackets, and leather boots into your fall engagement photo outfits.
Winter is the season of layering, so don't be afraid to add some warm layers to your outfits. It gets cold out there! Consider wearing a timeless wool coat over a sweater and jeans or a faux fur vest over a long-sleeved dress. Winter is about textures for sure! You can also add some sparkle to your winter engagement photo outfits with metallic accessories like earrings or a clutch.
Lastly, remember the most important thing is to choose outfits that make you feel comfortable and confident.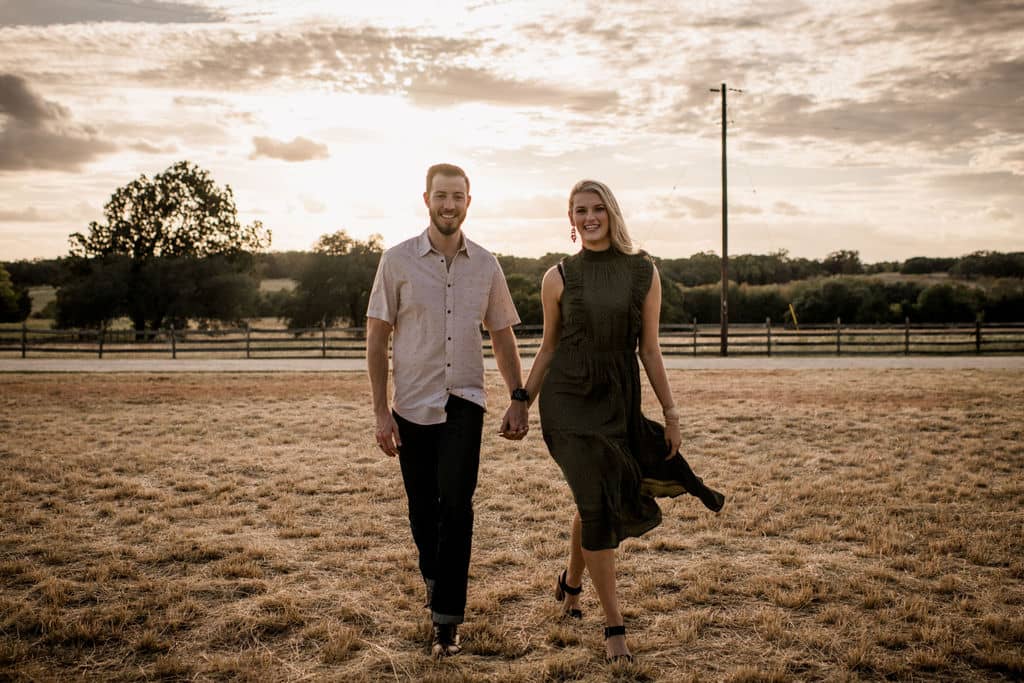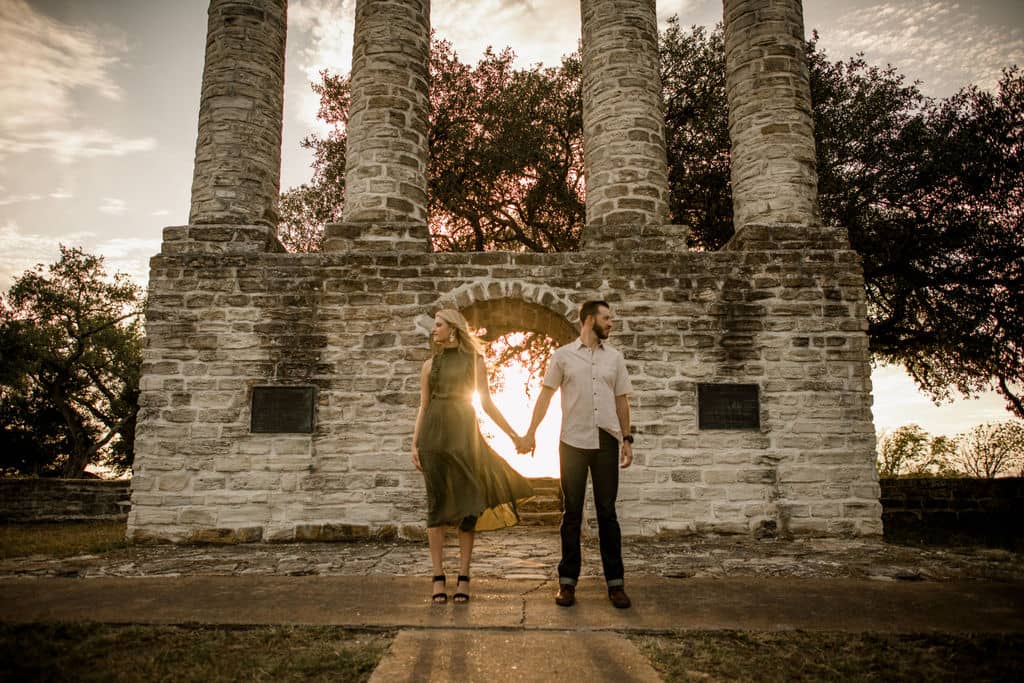 Recap on the Ultimate Guide: Engagement Photo Outfits
In short, choosing the perfect engagement photo outfits may seem daunting, BUT with these 6 tips you'll be ready to create stunning and memorable photos. All in all, choosing the right outfits for your engagement photoshoot is an important part of creating the perfect look and feel for your special day. I am always available to help out my clients when it comes to picking the right outfit for their engagement session (and other sessions). Don't be afraid to reach out and let's start planning something magical! 
_________________________________________________________________________________________
Meet Jamie
Hey! It's Jamie and what you see, is what you get!
I'm a marathon running, tattoo laden, indie music loving, historic home renovating, dog lover who isn't afraid to speak her mind. I am a Houston and College Station wedding photographer living in a 110 year old farmhouse in the small town of Snook, TX.
You might be wondering, "what makes her the best choice for my wedding?"
WELL! 12 years of wedding experience means that I'm not only a wedding expert, but I'm also a pro at keeping you on schedule, like wrangling a big family as if they were my own. I am committed to making sure my clients actually enjoy their wedding day.
Genuine smiles and laughter are what I strive for.
It's my goal to capture real, un-posed moments that reflect your wedding in a way that only I can. I want you to see things in your wedding album that you didn't even realize were happening behind the scenes.
If you're also the kind of person that loves jumping into adventurous feet first, let's run this trail together! You can inquire here!